Meet Our Doctor & Team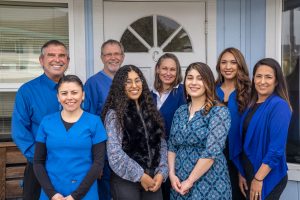 Take a couple of minutes to meet and get acquainted with the caring and compassionate team at Fort Bragg Center For Laser & Cosmetic Dentistry in Fort Bragg by reading each of their biographies. You'll learn a little bit about our doctor and team members, including their education, work experience, and professional associations. Then you'll see why we are such a good fit for your needs.
We truly look forward to meeting you and having the opportunity to serve you, as well as your family!
Alan Limbird, DDS
CA Dental License #: 31490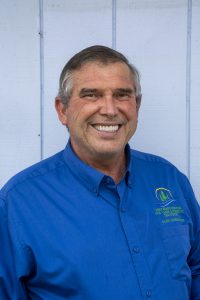 With his dad's encouragement, Alan became a dentist, graduating from UCSF School of Dentistry in June of 1983. The next year was spent at Loma Linda University gaining much knowledge and experience in his General Practice Residency. For the next 30 years Dr. Limbird owned and managed Limbird Dentistry in Ukiah. Looking for a change, he and his wife, Laura Bianchi Limbird moved to the coast near Mendocino. They love living here. Laura often says "Living here it feels like we are on vacation every day".
Dr. Limbird purchased Dr. Jim Hooper's dental practice in April of 2017. He chose Dr. Hooper's practice because of the dental team Dr. Hooper had with him. Over the next 5 years Dr. Limbird added to his team, and the team just gets better and better to become the fantastic caring team they are today. Dr. David Wistrom joined our team in January 2022 working part time, 2 days a week. The first week of November 2022 Dr. David Wistrom moved to Fort Bragg permanently and is practicing dentistry with us full time, 5 days a week. We are pleased to be available for our patients every day Monday through Friday. Both Dr. Wistrom and Dr. Limbird are well trained and experienced with lasers. We just added another Solea® CO2 laser to the practice so both dentists can be treating patients at the same time with this amazing laser.
David Wistrom, DDS
CA Dental License #: 42785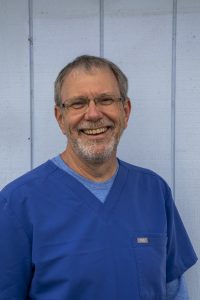 Dr. David Wistrom attended The University of Iowa College of Dentistry and Dental Clinics, graduating with honors in dental materials research. Dr. Wistrom owned a private practice outside of Sacramento for 13 years. After the kids moved out of the house, he and his wife decided to move closer to the ocean. Dr. Wistrom has spent the last 10 years working with a large dental clinic in Santa Cruz, providing quality dental care to the underserved people of Santa Cruz County. He has extensive experience in cosmetics, restorative dentistry, crowns, bridges, dentures, and extractions. He also has experience in soft tissue lasers and now with the new Solea® CO2 all tissue dental laser.
Dr. Wistrom and his wife have been married for 42 years. They have 3 amazing daughters (all grown up) and now 4 amazing grandsons. In his spare time he loves to walk along the shore and enjoys cooking and eating all types of food. They both love the Northern California Coast and all it has to offer.
Meet Our Team
Fort Bragg Center For Laser & Cosmetic Dentistry is able to provide the highest quality care thanks to an incredible team of dedicated, friendly, and knowledgeable individuals. Whether it is our hygienists or assistants, office managers or administrators, each team member helps our practice run smoothly and works with a shared commitment to our patient's oral health, comfort, and overall well-being. Take a few minutes to meet the team at Fort Bragg Center For Laser & Cosmetic Dentistry.
Luz Lizardi, RDAEF2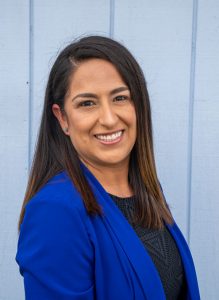 Luz Lizardi, also known as "Lucy", is a Registered Dental Assistant with Extended Functions. She was born in Zacatecas, Mexico and moved to Fort Bragg in 2003. She is married and blessed with two children a daughter and a son.
Lucy graduated Fort Bragg High School in June of 2006 and her dental career started in September of 2007.
After working for Dr. Hooper the required year and a half, she started taking classes at Sacramento City College where she acquired her licensing in the following.
X-Ray License
Coronal Polish Certificate
RDA License
Next, she earned her Pit and Fissure Certificate in June of 2016, allowing her to place pit and Fissure sealants.
In 2018 Lucy started taking classes at the University Of the Pacific (UOP) in San Francisco studying and practicing for her Registered Dental Assistant with Extended Functions License. She graduated in May 2019, took the board exam and passed with flying colors! Lucy is very proud of her accomplishments which of course she couldn't have done without the unconditional support of her wonderful husband and her very supportive boss, Dr. Limbird!
Jennifer "Jenn" de'Lavigne, RDH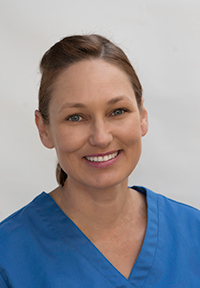 Jennifer de'Lavigne, also known as "Jenn", is a Registered Dental Hygienist in Alternative Practice. She is originally from Southern California. Jenn has lived in Mendocino County for the past 25 years. She is married and has two children. Her dental career started in 2013 and has plans of incorporating her love of dental hygiene and travel by working abroad for small periods of time.
Jenn is passionate about her work and the patients she provides service to. Her work is not limited to dental cleanings, but patient education and overall health. Jenn believes in delivering the highest standard in care with compassion and respect.
Andrea "Michelle" Viramontes, RDA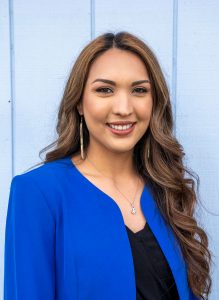 Michelle was raised in Fort Bragg, a local town known for its beautiful coastline, redwood trees, and wildlife. She chose Dental Assisting as her topic for the acclaimed Senior Project in order to better understand the ins and outs of the dental field. Upon completion of the project, with Carmen Alcala, an RDAEF (Registered Dental Assistant with Extended Functions), as her mentor, she received a job offer in 2016 to work as a Dental Assistant and receive the job training to eventually become an RDA (Registered Dental Assistant). Throughout the years, she has reached her goal and acquired the following licenses:
RDA License
X-Ray License
Coronal Polishing Certificate
Pit and Fissure Sealants Certificate
She is enthusiastic about her job and strives to provide the highest standard of care with kindness and compassion. Michelle is excited to continue expanding her knowledge, and will be entering the RDAEF2 program at the University of the Pacific Dental School in San Francisco this Fall 2022. While proud of her accomplishments, she could not have achieved her goals without the support and guidance of the wonderful team at Fort Bragg Center for Laser and Cosmetic Dentistry, her friends, and her family.
Monica E. Rodriguez, RDA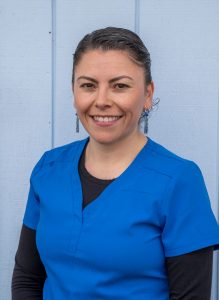 Monica was born in Guadalajara, Mexico raised in Fort Bragg since the age of three. She completed all of her education here and graduated from High School in 2005. Monica's dental career started in 2017. Although her dental career started five years ago, Monica has come a long way. She is crossed trained and always willing to help her team as needed. Monica is currently our office manager and is assisting the dentist. She received her RDA license in 2018 and is looking forward into extending her license. She enjoys working with people and helping others in her community.
Monica has been happily married for 15 years, has two beautiful kids, Vanessa and Cesar, and a lovely dog, Lua. Monica loves going for walks in our beautiful coastal trails. She also enjoys spending time with her family and traveling when possible.
Yisel Barrientos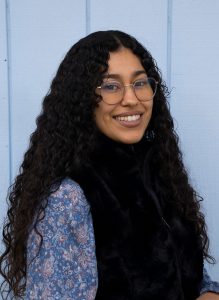 Yisel joined our team in the pursuit of dental assisting and becoming a future dental hygienist. She graduated high school in 2016 and then attended Mendocino College for two years. She then transferred to Butte College in Oroville, Butte County. Her main interest is human biology studies. There is something about preventative care of one's overall health that has fascinated her. This fascination piqued her curiosity and became her philosophy in the way she pursues her quality of life. Working alongside an amazing team and being able to live in a town surrounded by nature is a gratifying and fulfilling feeling. Yisel enjoys providing dental care services in the beautiful north coast town of Fort Bragg.
Leticia "Lety" Flores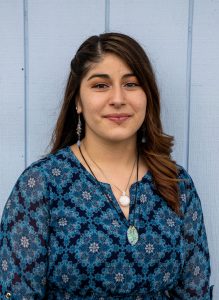 Leticia Flores also known as "Lety" was born and raised in Fort Bragg. Graduating high school in 2010 she relocated to San Luis Obispo where she attended Cuesta Community College, after a few years living on the beautiful central coast Lety moved back to Fort Bragg where she attended Mendocino College receiving her AA degree in Allied Health Sciences with emphasis in Kinesiology in 2019. Currently she is working on receiving her Dental Radiology Certification and potentially becoming an RDA.
In her spare time Lety likes to make jewelry, play soccer, and play with her two dogs Bullet and Penny.
Hank, Therapy Dog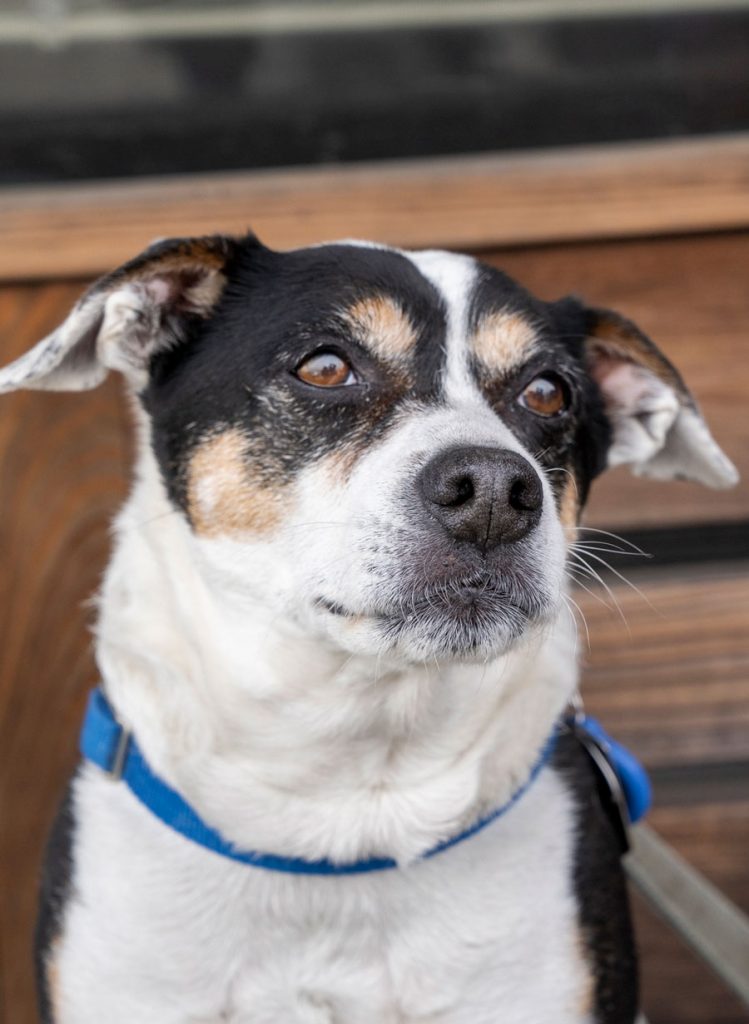 Meet Therapy Dog Hank!
Hank has been in the dental field for 5 years now. His current position with our office is Comfort Dog. He loves greeting patients at the front door and making them feel welcome and relaxed. Good work Hank.
Feeling anxious about your dental visit? No problem, Hank's calm and easy going personality will surely calm your nerves and make your dental visit much more enjoyable.
Dr. Limbird and Hank love to walk by the beach at sunrise every morning to get their day off to a great start. Hank also looks forward to going on short walks around the block throughout the day.
We are happy to have Hank as a part of our team. So feel free to stop by and say hi to Hank our therapy dog!​